Did you ever wonder about what the world's largest family would be like?
If you have, here's a chance for you to see – meet Ziona Chana with 39 wives, 94 children, 14 daughters-in-law and 33 grandchildren. The most surprising thing about the entire family is that they all stay together. They reside in a 100-room four storey home, which is constructed in the hills of Baktwang village in Mizoram, which is an Indian state. All of the wives sleep in huge communal dormitories.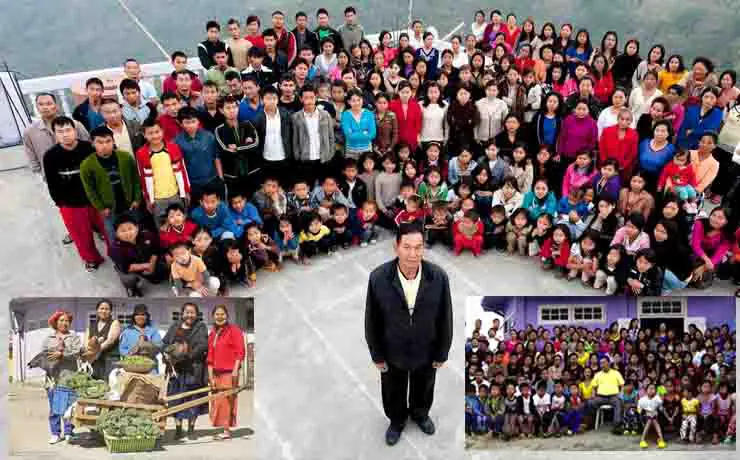 Words from Mr. Chana:
Mr. Chana states that he feels like the most special child of God because he has been blessed with so many people to look after. He considers himself the luckiest to have so many wives and children. He is proud to be the head of the largest family in the world. Since he is the head of a sect, he is allowed to have as many wives as he wants to.
Thankfully, the family works with military discipline in which Zathiangi, the oldest wife, performs the household chores along with the fellow women.
The wives:
All the household chores like cleaning, preparing meals and washing are conducted by all the wives together. Mr. Chana has also married ten women in one year. He has his own bedroom with double bed. While the young women are placed near to his bedroom, the older members are placed further away. The wives visit him on a rotation basis. Despite being 71 years old now, he has not given up on his dream to have more wives in his life.
https://www.youtube.com/watch?v=iHhscL2o2F4
Mr. Chana says that he is ready to go to the United States to find more brides for himself. According to his wives, he is the most handsome man in the village.