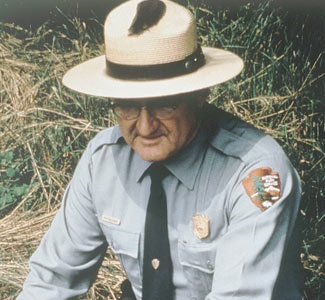 A man hit 7 times by lightning astoundingly survived!
If an L-stroke (lightning stroke) hits you, there's a 10-30% chance that you'll die. However, if you survive, there's an 80% possibility of a life long injury!
Smashing these facts, Roy Sullivan is the man who was hit by lightning as much as 7 times and amazingly, he survived!
Born on February 7, Roy Sullivan was a United States park ranger in Shenandoah National Park in Virginia. Roy gained a nickname "Human Lightning Conductor" as he was hit 7 times by lightning on different occasions.
Here's a detail of 7 'shocking' strikes that Roy survived!
1) In April 1942, Roy was hiding from a thunderstorm and sheltered inside a newly built tower which lacked a lightning rod. Lightning hit the tower 7-8 times, Feeling unsafe, Roy ran out and that was the first time when lightning struck him. It burned half an inch of his right leg, hit his toe, and left a hole in his shoe.
2) In July 1969, lightning hit Roy a second time. He was driving his truck on a mountain road, when the lightning first hit the nearby trees and then deflected into the open window of his truck. The strike banged him unconscious and burned off his eyebrows and most of his hair.
3) A year later, in 1970, Roy was standing in his yard when lightning struck a nearby power transformer and jumped to his left shoulder.
4) Again in 1972, while he was working inside a ranger station in Shenandoah National Park, another strike occurred and burned his hair. After this very incident, he acquired a fear of death and hid himself every time thunderstorms appeared.
5) On August 7, 1973, while he was out on patrol in the park, Sullivan saw a storm cloud forming and drove away quickly. When he thought he was safe, he decided to leave his truck. Soon after, he was struck by a lightning bolt. Sullivan stated that he actually saw the bolt that hit him.
6) The next strike came about in 1976 and injured his ankle. Roy again reported that he saw the cloud and tried to run away, but he was hit again.
7) The last strike of his life occurred in 1977, when Sullivan was struck while fishing in a freshwater pool. The lightning hit the top of his head, burned his hair, traveled down, and burnt his chest and stomach.
It is also believed that after the fourth strike, Roy began to believe that some force was trying to destroy him. Sullivan's wife was also struck once, when a storm suddenly arrived as she was out hanging clothes in their back yard. Her husband was helping her at the time, but he escaped unharmed.
Reference : wikipedia