Body building is considered to be the cup of tea for real strong and muscular men. Kids are usually kept away from joining gyms at an early age as it may negatively affect their body growth.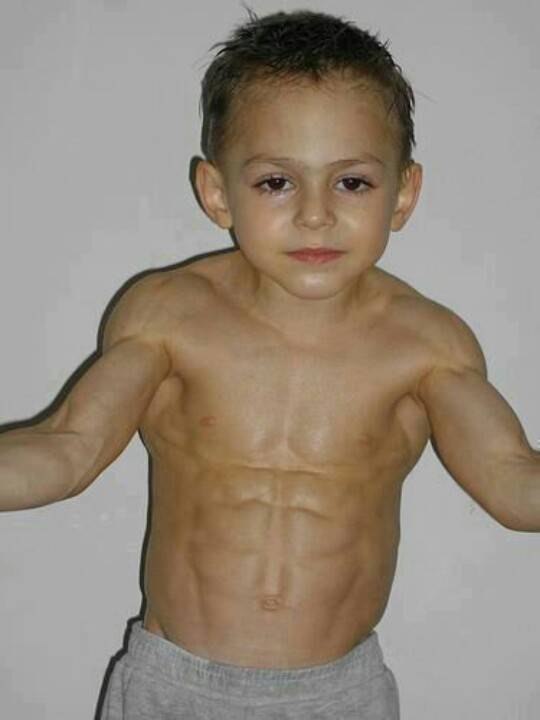 Here's a boy who stands above all misconceptions of training at an early age, he's the youngest Bodybuilder of 7-years-old. A gymnast and a bodybuilder from Romania, Giuliano Stroe got his name booked in the Guinness Book of World Records by setting up a record for the fastest ever 10 meter hand-walk with a weight ball between his legs. He staged this stunt in front of a cheering live audience on an Italian TV show, and now has become an internet sensation as millions of people have watched the clip of him performing the stunt on YouTube.
At an age when other kids engage themselves in enjoying their childhood, little Giuliano was busy breaking the records. Giuliano's records include human flag; for more than half a minute, human flag pull-ups (31) and muscle ups (41). He also has a plethora of unofficial records like 20 pushups on 4 glass bottles.
Giuliano regularly lifts 4 kilogram dumbbells and other heavy weights to enhance the strength of his muscles. He has built 6 packs because of his constant hard work.  It might not seem noble to train a kid like that but Giuliano's own willingness for a hard workout stands above all arguments.
Moreover, Giuliano's younger brother Claudiu started training at an earlier age than Giuliano and now he's skilled enough do the splits between metal rings and turn back flips along the ground.
Giuliano's father Mr. Lulian Stroe is now trading in scrap to feed his family in the village of locana and plans to shift to the UK for searching a work and a sponsor for his sons so that Giuliano and Claudiu could achieve a new name and fortune in the field of bodybuilding.
https://www.youtube.com/watch?v=v-2v0RJ7zs4